Looking for St. Petersburg Florida Classic car restoration?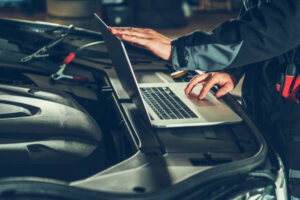 We are your local expert for St. Petersburg Florida Classic car restoration!
Complete Classic Automotive Restoration is a licensed, family-owned and operated automotive care center in Plant City, Florida. We specialize in classic car repair and restoration. Our mechanics are experts in restoring engines, transmissions, suspension systems, paint and body work, wiring and electrical, auto glass, and interiors. We will restore your classic car to its vintage glory.
Our maintenance team is not limited to restoration. We also offer routine maintenance for both your classic car and vehicles of all makes, models, and years. With over 30 years in business, we are your trusted, reliable, and professional car restoration, repair, and maintenance provider.
Our technicians will take the time to inspect your car and discuss your vehicle's requirements with you. We will provide a free detailed written estimate. Once the project is underway, we will keep you informed with photos, emails, and calls. We will exceed your expectations – guaranteed!
At Complete Classic Automotive Restoration, we want to keep your vehicle looking and performing at its best. We ensure the work is done professionally and affordably.
Does your classic need Paint and Body Restoration? Complete Classic Automotive Restoration strives to provide all-inclusive service experience to its customers. From simple bumper replacement to specialized paint matching and body work, our services cover all your vehicle maintenance needs. Professionalism and dedication for our work is clearly evident in all our services. All our technicians are professionally trained and are capable of handling any type of classic vehicle. Their extensive knowledge of classic vehicles and complex frame parts is what sets us apart.
Schedule Your Paint and Body Restoration Service.
At Complete Classic Automotive Restoration in Plant City FL, we have a fairly simple process. Before we start talking repairs, we require an initial 15-30 minute scheduled inspection. During the inspection, our estimator will advise you of the initial cost, possibility of additional damage, and an estimated repair time. If you decide to have the repairs done by our shop, we can discuss setting up a future time to drop off the vehicle. Our typical drop off days are Monday and Tuesday mornings, with some exceptions.
Keep your vehicle healthy with our thorough, reliable tune up service.
If your car has stopped running at peak performance, you'll need to trust in a dependable auto repair shop to deliver an honest professional opinion. As a licensed, family-owned and-operated automotive care center in Plant City, Florida, Complete Classic Auto Restoration devotes our full attention to offering fast, reliable repair work without taking drivers for a ride. Our skilled technicians are well-prepared to repair vehicles of all makes, models, and years.
– Vince Harwood, Owner of Complete Classic Automotive Restoration
We can help with St. Petersburg Florida Classic car restoration.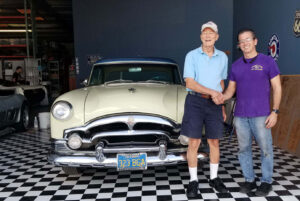 Our Classic Car Restoration Service team devotes all the time it takes to develop a clear, concise appraisal of your vehicle's requirements. Your car is unique. No two paths of restoration begin at the same starting point.
We keep you updated as to your project's progress with photographs, e-mails and telephone calls. All questions are answered efficiently… and all Classic Car Restoration problems are solved effectively.
Each Classic Car Restoration Service will exceed your expectations – it's our personal guarantee! It's our consistent dedication to doing things the right way that has earned us our reliable reputation.
We offer both restoration and maintanence services!
For Restoration we offer all these services:
Maintenance is important to your cars health. We offer competitive rates on all these services for both your classic and modern cars!
Take a look at a gallery of our work!
We are committed to quality, passion, honesty, and communication with our customers. When you work with Complete Classic Automotive Restoration, you can be confident that you're working with some of the best auto repair specialists in the business. We handle all makes and models, both European and domestic.
Here is what our customers are saying.
"The guys at Classic Car Restoration are not only detail-oriented, highly experienced professionals, but they are also classic car enthusiasts.   After my 1968 Cougar xr7 was in an accident, Vince, Marc and Keith took extra special care of my car, and returned it to me better than new.  I was especially pleased with their ability to install and align the fenders, doors, windows, hood, trunk and chrome molding.  They also have a large inventory of new and used cougar and mustang parts.  I would recommend Classic Car Restoration to anyone who needs work done on their classic car."
"Absolutely fantastic service and workmanship! So glad I stumbled upon this shop since relocating to Florida! They got my car in and out quicker than expected and she looks even better than before the accident! Keith does fantastic work and Vincent is super personable and professional! This will definitely be my go to shop for my classics!"
"Overall I've been quite pleased with all our dealings with you and the quality of your work- especially the fact that it has been especially one-stop-shopping where you've outsourced what you needed to and gotten everything done for us at reasonable prices. Thanks again."
From routine maintenance to full Classic Car Restoration Service, we can help!
Call today for St. Petersburg Florida Classic car restoration!